"If you want to do something, if you want to be a writer, you've got to write. If you want to be a filmmaker, you have to make films." - Spike Lee, during a talk delivered in San Francisco on June 8, 1996.
These words may seem entirely intuitive and straightforward, but it's funny how we can often lose sight of the truth of this statement.
I also personally heard the Oscar-winning filmmaker preach the same gospel during a talk he gave at Toronto's Roy Thomson Hall, in Toronto, on March 14, 2005. The room was full of aspiring filmmakers and actors who had come to get some insights on how to break into the film industry.
One attendee lamented the lack of a clear path for Canadian filmmakers to access mentorship from Hollywood heavyweights like himself to help them reach their full potential. Lee responded by saying that you become a great filmmaker by making films – no matter where you live. "Pick up a camera and film," he said. Another young woman also walked up to the microphone and shared with Lee how she was an aspiring actress and wished she could one day get a role in one of his movies. His response was: "Do you have a headshot right now?" Sadly, all she could do was stand there – embarrassed that she had come unprepared.
This really stuck with me over the years. True passion and the fulfillment of one's craft come with dogged perseverance and the self-motivation to keep working and perfecting ourselves even when no one is looking. By the same token, we also need to continually put out our best work forward because we never know who is watching.
Opportunity can come knocking at any time, and we need to be prepared.
The email
My passion and chosen craft is writing and storytelling. I've been fortunate enough to make a living from it, after jumping from an early career path in the financial services industry, by starting a series of websites and writing about culture and the arts just a few months before I first heard Spike Lee speak on that day in Toronto, back in 2005. It took me about three years of work from that time before finally landing my first newsroom job as an editor at Microsoft, leaving the finance world behind, and I haven't looked back.
Over the years, I had kept learning from various roles in content production, even transporting my life to the Middle East as a science writer and communicator while continuing to tell stories through my own digital platforms. Then, while I was in San Diego, California, attending an American Chemical Society (ACS) conference (remember those?) in March of 2016, I received this email:
Hi Meres,

I hope that you are well.

My agency handles lots of movie marketing in Canada on top of other clients. We have Spike Lee coming in on Thursday for his upcoming film CHI-RAQ, and wanted to touch base about an interview for Afro Toronto if interested.

Thanks
Robyn Mogil
TARO PR
"If Interested?"
The PR agency had no idea I wasn't in Toronto at the time. I found out that the interview would not be a phone call but an actual "in-person" roundtable meeting with a small group of journalists, three days later, on March 17, at the Struck Contemporary Art Gallery in downtown Toronto.
Ecstatic at the unforeseen opportunity, I immediately arranged to reroute my return flight to Saudi Arabia from my conference in San Diego to make a two-day stop in Toronto.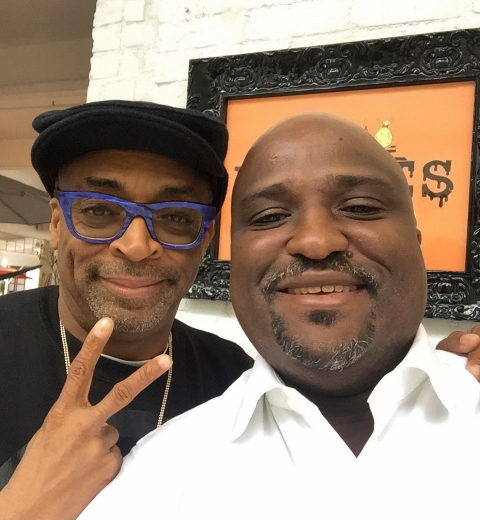 Dropping knowledge on the white couch
As I walked into the trendy art gallery, I joined the handful of other journalists present near a wooden table set for us to sit around for our roundtable discussion with Spike Lee. The iconic filmmaker soon made an appearance from inside the gallery, accompanied by one of the publicists and warmly greeted us.
After taking a look at the prepared table, he turned his head back toward the gallery floor and pointed to a set of comfortable-looking white couches. "Let's do it there," he said.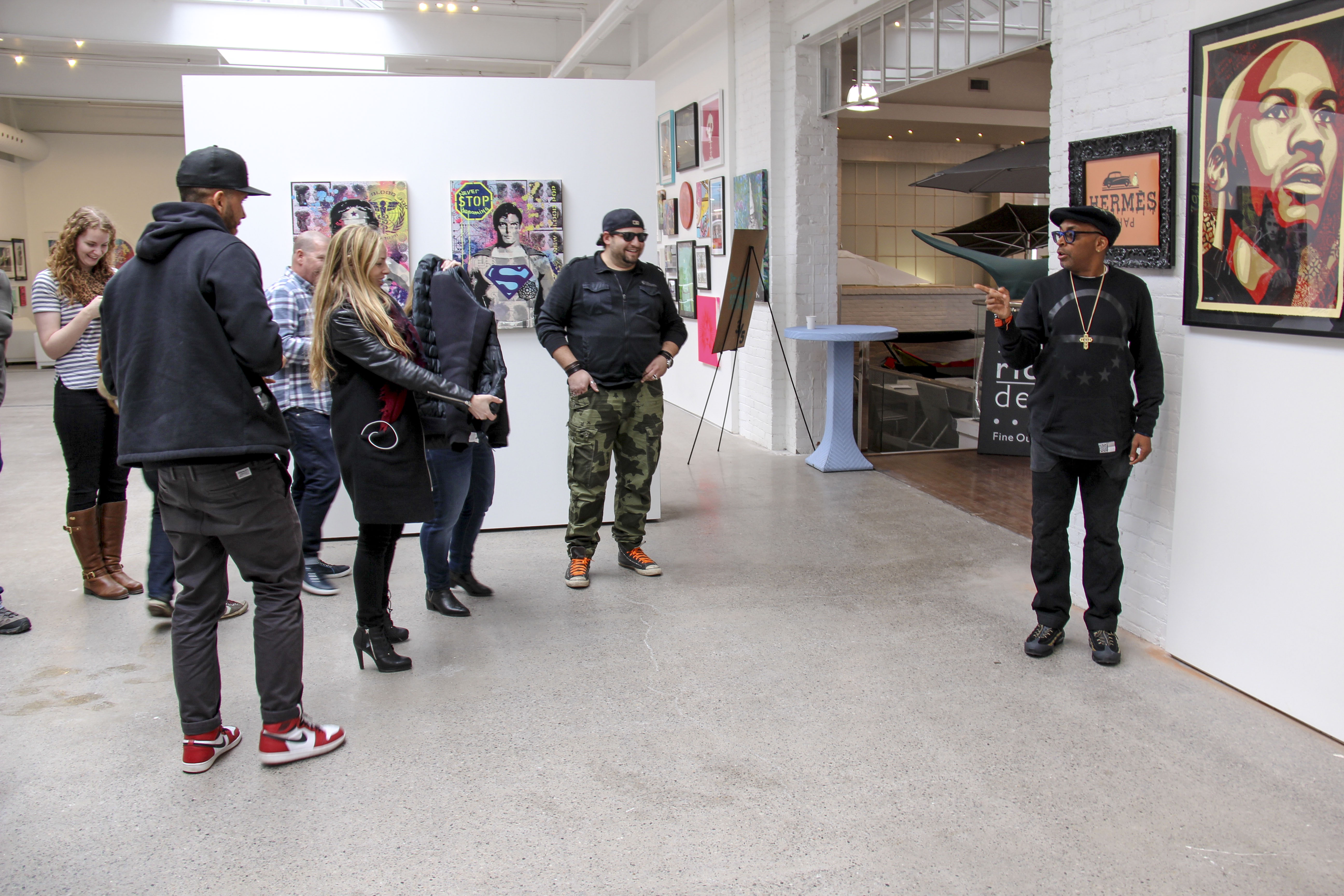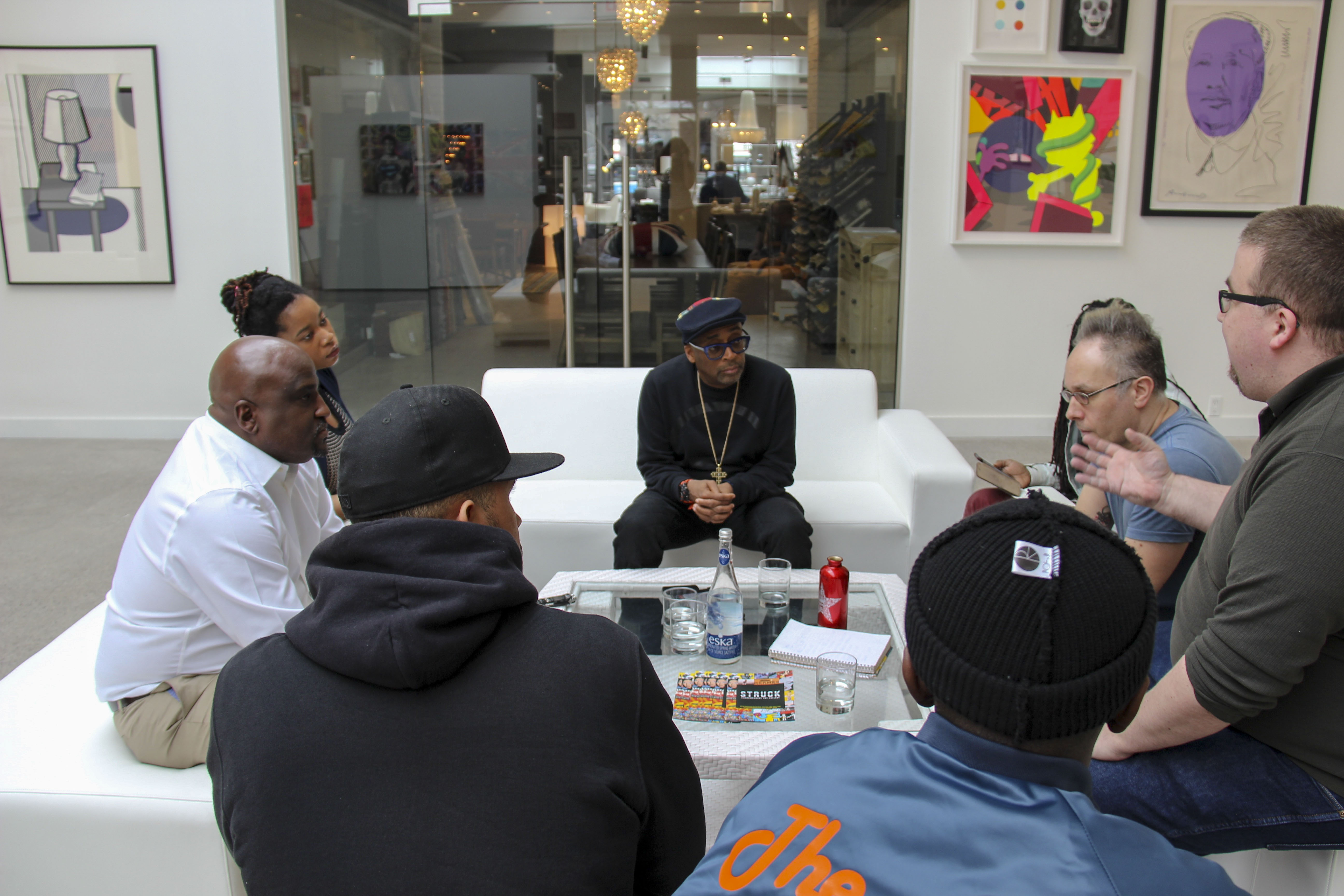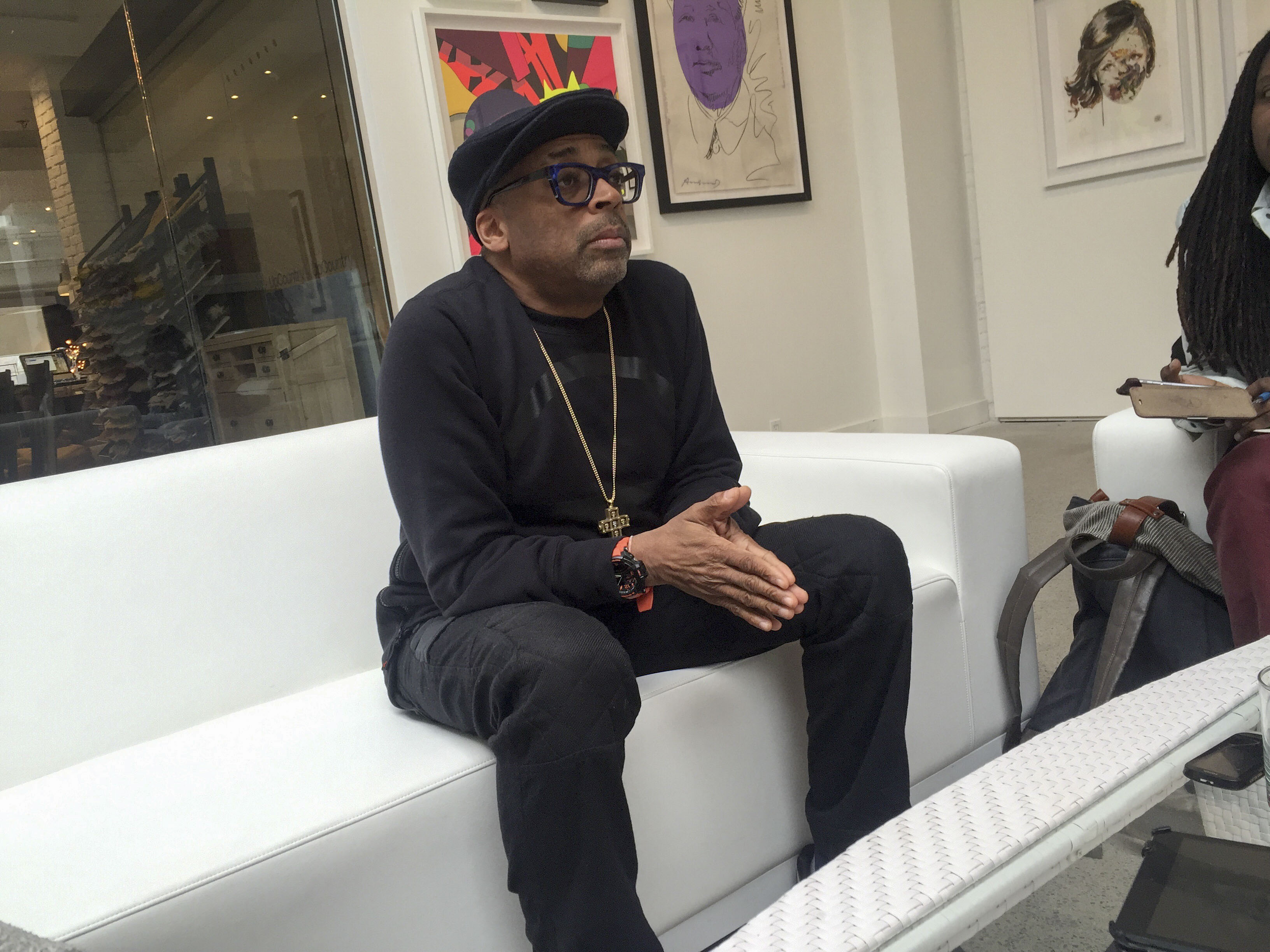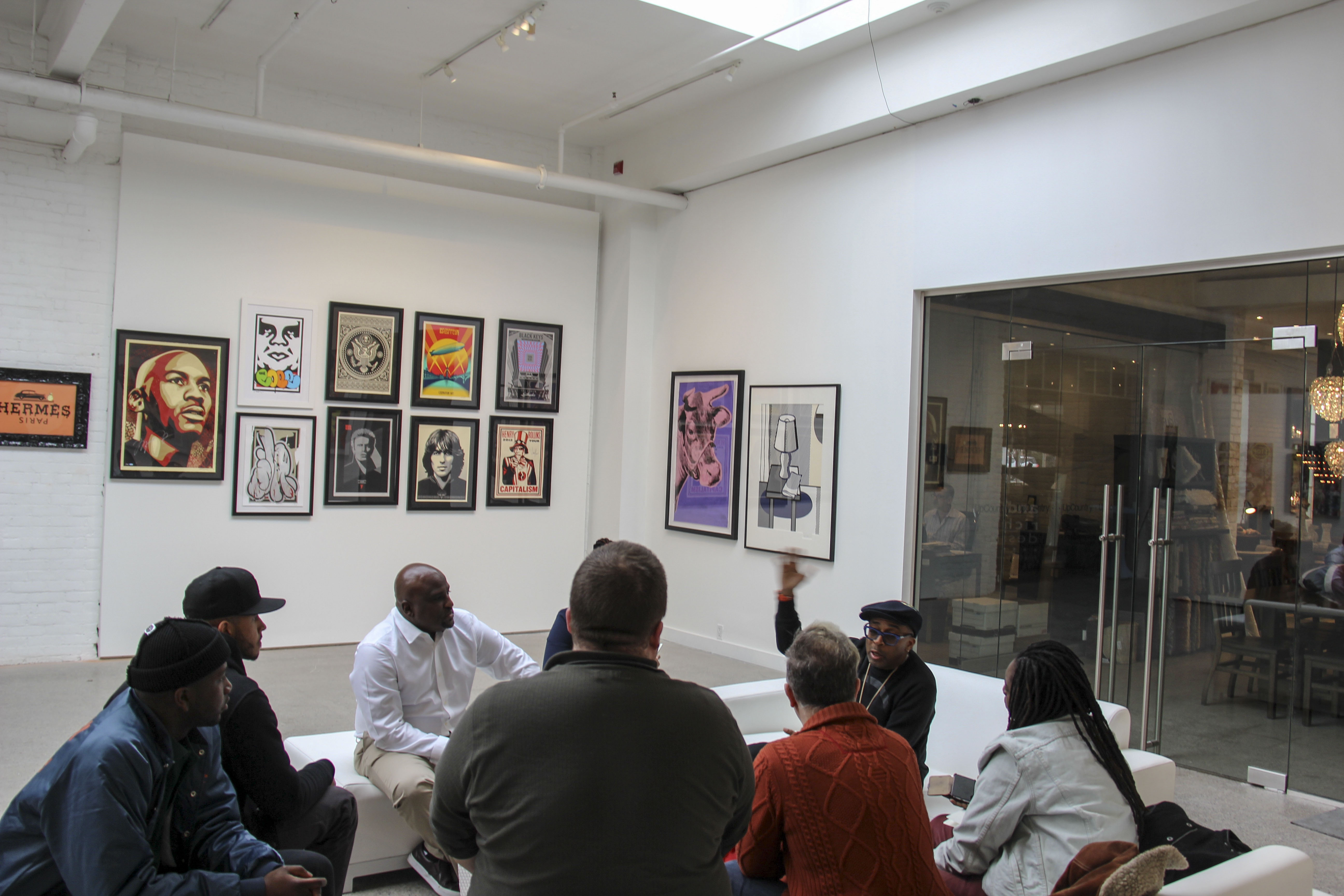 The discussion was about his then newly-released film CHI-RAQ, but the conversation also turned more personal as he looked affectionately to a framed illustration of basketball Hall of Fame great Michael Jordan. "My man right there. One word doesn't describe the totality of that greatness," he said.
Lee then reminisced about his creative journey with Michael Jordan and explained how influential the latter had been in his early days as a young filmmaker.
She's Gotta Have It (1986) was Spike Lee's first feature film. In it, he played a fun-loving sneakerhead and b-boy called Mars Blackmon. The fictional character of Mars loved adored Michael Jordan. Much like Spike Lee himself in real life, Mars was a Brooklyn-loving fan of the New York Knicks who nonetheless idolized Michael Jordan.
As Lee told Good Morning America recently: "New York City would be on fire when Michael Jordan would come to the [Madison Square] Garden. We appreciate great performances. Even though Mike was killing us, we still wanted to see this guy."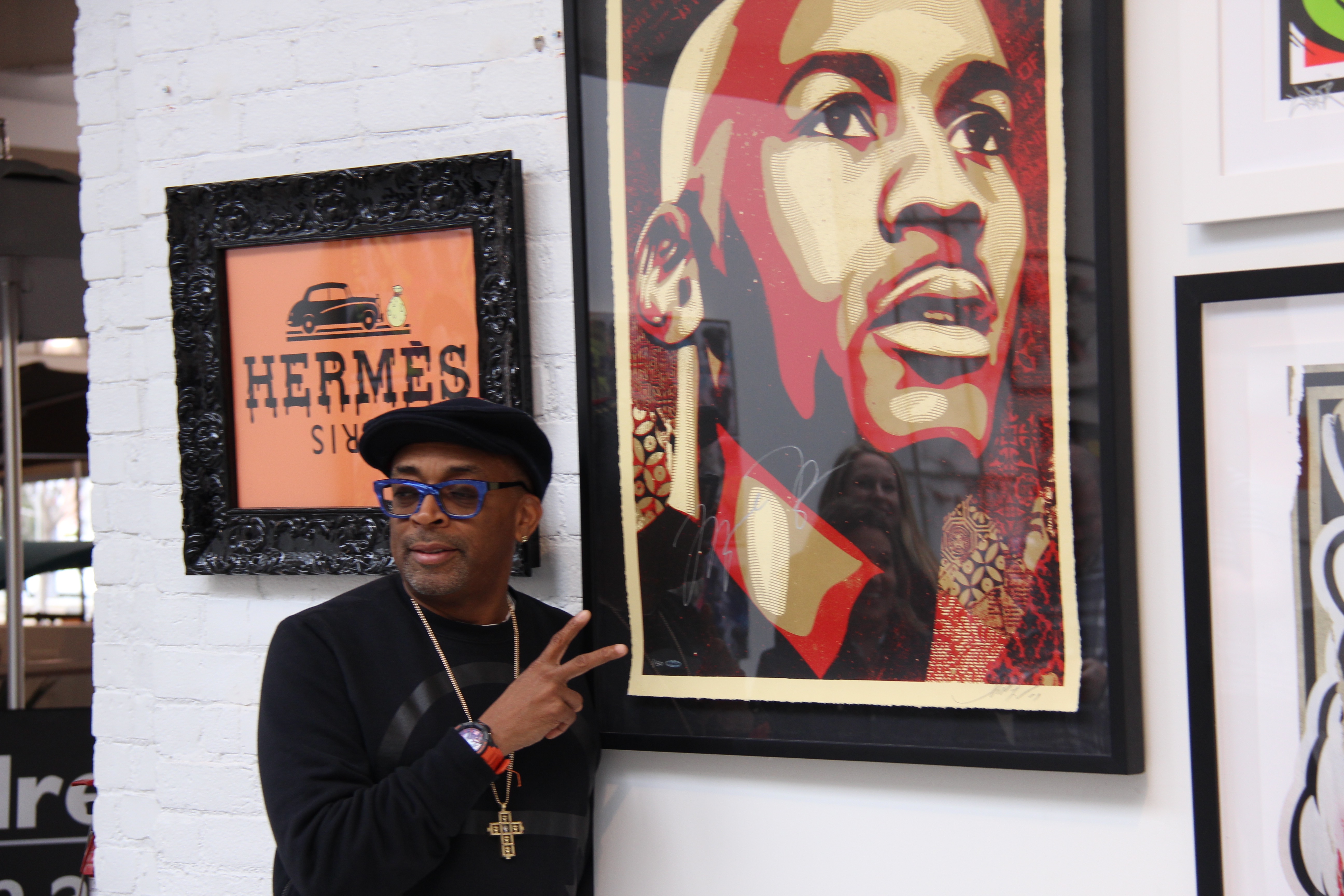 Mars was fanatical about his Nike Air Jordan sneakers, which were produced exclusively for Michael Jordan in late 1984, and released to the public in 1985.
A branding masterstroke
Made with a shoestring budget of $175,000, She's Gotta Have It went on to make $8 million at the box office. The independent film's success caught the attention of Jim Riswold and Bill Davenport – who both worked at​​​​​​​ Wieden Kennedy, Nike's agency. "They saw the film and called me out of nowhere," as Lee recounted.
Riswold and Kennedy explained to Lee that he would play himself as Mars Blackmon in a black and white commercial that he could direct himself. There was one catch, though. Michael Jordan had the directorial approval, and he didn't know who Lee was and hadn't seen the film.
Lee was very excited about the opportunity. He also knew he had to convince Jordan.
His eyes light up when he told us the story of how Jordan looked at him and told Lee how he could go with any of the prominent Madison Avenue-proven bigshot directors. Still, he decided to go with Lee because he could feel how truly passionate he was about the project.
The partnership with Jordan and Nike went on to last for seven years. The commercials that Lee directed are considered the most famous shoe commercials in history. The success astonished Lee, as he never expected this one commercial to blow up as it did and lead to many more.
"It changed the culture," he said. "Michael Jordan is the reason why I've done so many commercials."
The power of creativity
Lee also credits Phil Knight, the co-founder of Nike, for backing him, as an unknown young black filmmaker, to be the brand's face when Nike wasn't yet the powerhouse that it is today. It wasn't a popular decision at the time, but it proved to be the right one.
At the end of the day, creativity and out-of-the-box thinking won out.
Having started out as an independent filmmaker and raising the money himself, Lee was able to complete She's Gotta Have It without a studio behind him telling him what to do. The film's success set a precedent that has allowed Lee, throughout his career, to have more creative control and source back into this self-reliant trait when facing objections (as he did with the film Malcolm X).
"If you love what you do, you're blessed," as I've more than once heard Spike Lee say.