My favorite part of any large city I visit has always been the bohemian neighbourhoods. It's sacrilegious for me not stop by Soho when in New York City to take in the art galleries, trendy coffee shops and cast-iron architecture. It's also true that my French-born wife, who has been responsible for passing on to me a true appreciation for artisanal pastries, will always also make sure that we find the perfect pastry shop, serving authentic French chocolate croissants, to accompany a great cappuccino.
On our first trip to Buenos Aires, Argentina this June, the neighbourhood of Palermo Soho definitely hit all the right notes. Located in the the northeast of the city in the Palermo district, the he largest neighborhood in Buenos Aires, the Palermo Soho sub-barrio is a relatively new trendy area known for its independent fashion boutiques, chic cafés, restaurants, bookstores and wine shops. It's a favorite of both local and international hipsters, designers, creative types, bloggers and fashionistas.
We actually stumbled upon it by chance when, while walking along Avenida Santa Fé, I reached for my iPhone to google a hopefully authentic French bakery. I decided to pick Cocu Boulangerie. As we took a right down Malabia Street to follow the Google map indications, I immediately fell in love with the vibrant street art, the "alternative" feel and culture as well as the overall cultural vibe of Palermo Soho.
As we arrived at the bakery, it was immediately apparent that we would not be disappointed. The decor was very inviting and the giant chalk-written board behind the counter gave the place a special touch. The atmosphere was quite lively as it appeared to be a very popular spot in the neighborhood. The natural flowers on the small table we were lucky to find near the counter was a special touch.
It was an interesting surprise that our waiter spoke fluent French as he made some suggestions and shared a few words about the establishment.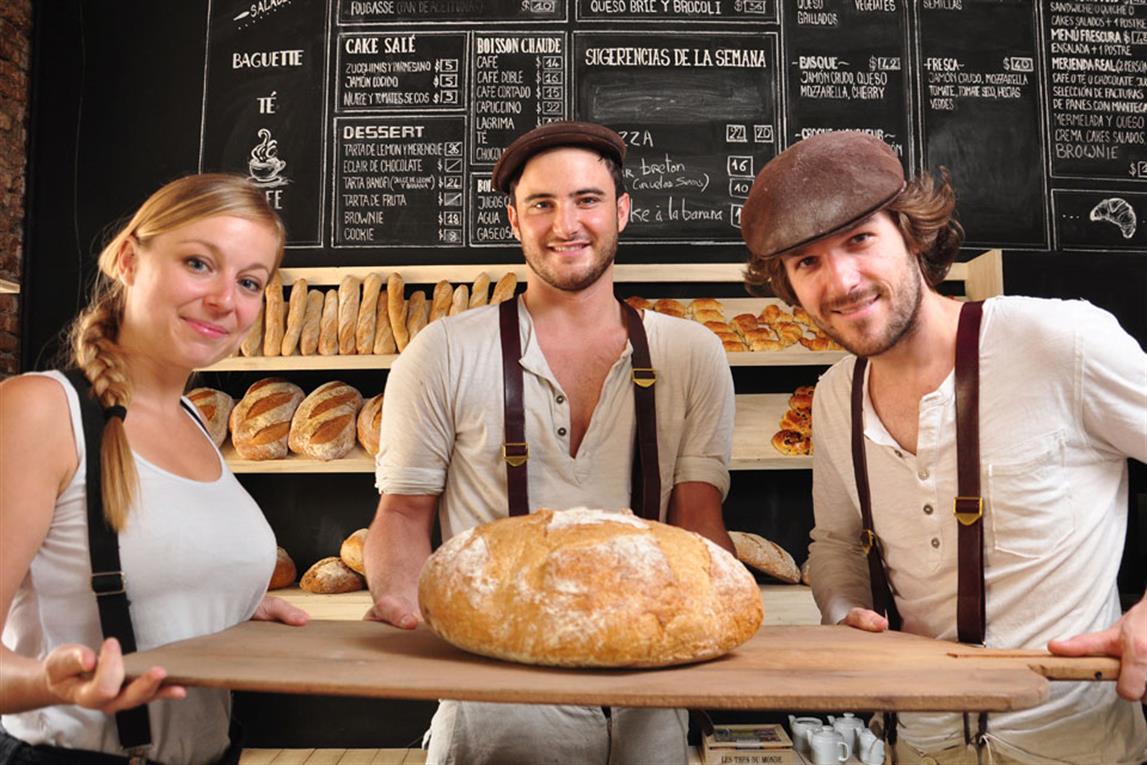 We learned that Cocu was founded in December of 2012 by three French expatiates, all in their late twenties at the time, living Buenos Aires. Anaïs Gasset (from Montpellier), Morgan Chavrel (from Nice) and Adrien Verny (from Aix-en-Provence) lamented the lack of options to savour genuine French baguettes and warm pastries in the morning, as they would back home, despite the multitude of French-style cafés and pastry shops in Buenos Aires.
In 2011, Morgan and Adrien saw an opportunity to break the mould and provide an authentic French patisserie experience for porteños, tourists and their French compatriots in the city.
So they decided to switch careers and go back to France in order to obtain the necessary training to reinvent themselves as bakers and pâtissiers. Up to that point, Anaïs (who joined them later) was pursuing a career in the hospitality sector, Morgan was a computer engineer, and Adrien was mathematical engineer. They developed a business plan after all meeting at the Franco-Argentine Chamber of Commerce and Industry and, today, Morgan is the head chef and Anaïs is the operations chief of Cocu.
From opening day on December 14, 2012, the new establishment which launched with the slogan "Je t'aime à la folie" became a neighbourhood favourite.
Palermo Soho could finally boast having a genuine French bakery shop, featuring French owners, bringing the traditional savoir-faire. Anaïs actually sees Cocu as an opportunity to spread a bit of her native French culture in Buenos Aires.
Address:
1510 Malabia, esquina Gorriti
Buenos Aires, Argentina
Phone: +54 11 4831-4675
Find Cocu on social media:
Facebook: /COCUboulangerie
Instagram: @cocuboulangerie
Twitter: @CocuBoulangerie
---
Featured tours
Related articles